Westfield News: Lt. Governor Karyn Polito in Huntington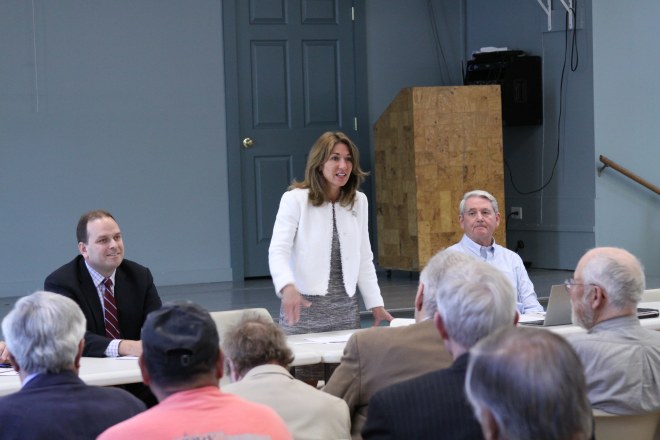 By Amy Porter
Lt. Governor Karyn Polito returned to the hilltowns on Wednesday for a meeting with the Hilltown Collaborative at Stanton Hall.
In introducing her, Andrew Myers of Chester, chair of the collaborative, said it had been a year since the six towns signed the Community Compact with the Baker-Polito Administration pledging to work together on shared services and economic development.
"It's been a very busy year," Myers said. He said his group had worked with the Division of Local Services (DLS), which was presenting a report on shared financial services in the towns at the meeting. The collaborative is also sponsoring an information technology (IT) study in the towns, under the auspices of the Pioneer Valley Planning Commission (PVPC).
In addition, there is a new economic development report, and candidates are being interviewed this month for the position of a regional economic development coordinator.
 
Polito then spoke, introducing Sean Cronin and Zack Blake of DLS. "Please consider this a team effort. I'm sure some of you were a bit skeptical at first," Polito said of the idea of sharing services between towns. "Thank you for taking the initial steps," she added.
***
To date, the Hilltown Collaborative has benefited from three grants, totaling $170,000 through the Community Compact program. $40,000 was administered by MassDevelopment, who hired Elan Design to do an economic development review of the area and the plan which is currently being finalized. Another $110,000 was received by the town of Chester as the lead town to establish an office and hire the economic development coordinator. $20,000 was also granted to PVPC for the ongoing IT review.