The Westfield News: Hilltown Collaborative names Economic Development Director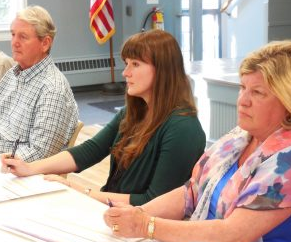 By Amy Porter
At the start of Wednesday's Hilltown Collaborativ meeting in Stanton Hall, chair Andrew Myers of Chester announced that the new grant-funded position of economic development director had been filled.
Myers then introduced Jeanne LeClair of Haverhill to the group, which is comprised of representatives of the six Gateway hilltowns and partners. Myers said LeClair, who hails from a small town in Missouri, received her bachelor's degree from Boston University, and master's in community development from Brandeis.
***
Molly Goren-Watts of the Pioneer Valley Planning Commission gave an overview of the IT analysis PVPC has done in each community. "Jamie Durand and I really enjoyed these visits, and enjoyed your hospitality," Goren-Watts said.
She said the team reviewed workstations, internet connectivity, and software in each of the towns, and is working on a comparative analysis with an eye towards potential shared resources. Goren-Watts said they would not be telling the towns what to do, but making suggestions, such as creating a line item in the budget for information technology, something many towns have not had.
She said other recommendations will include specific technical upgrades needed in each community, and the potential for shared document storage and backup, another area in which some of the towns are lacking. Regarding shared personnel, Goren-Wattssaid she thought a shared part-time IT director to do ongoing thinking and long-term planning would be a great idea.