Springfield Republican: 'Secret stream' in Holyoke subject of student mural set for unveiling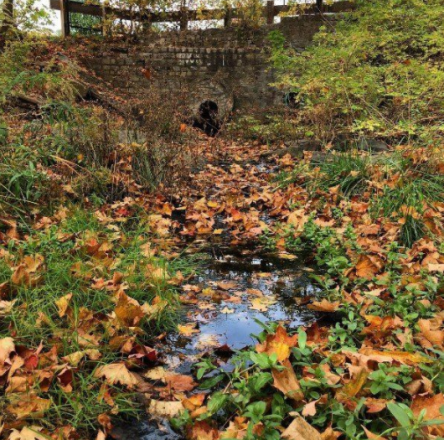 By Mike Plaisance
The "secret stream" known as Day Brook will be the focus of a mural created by Sullivan School students to be unveiled from 1 to 2:30 p.m. on Saturday at Community Field off Cherry Street.
"All residents of and visitors to Holyoke and Community Field are welcome at the event, which will also feature make-your-own sundaes," said a press release from the Pioneer Valley Planning Commission.
"Residents of Holyoke living in Wards 2, 3 and 6 - which are located in the Day Brook watershed - are particularly encouraged to attend," the press release said.
***
Fifth-and eighth-graders at Sullivan School worked with a teaching artist from Enchanted Circle Theater and the Pioneer Valley Planning Commission. Their public art project, the mural, will be displayed on the side of a building near the skating rink at Community Field to educate park-goers about Day Brook, which is above-ground and visible at that site, the press release said.
"The education activities are to help local school children become aware of the natural resources within their urban environment (even if they can't see them) and gain an understanding of the connections between urban infrastructure and the environment," Jaimye Bartak of the Pioneer Valley Planning Commission said in an email.
"Many children in Holyoke have no connection to the Connecticut River, let alone Day Brook, and I'd say it's the same for many adults as well," she said.
The Pioneer Valley Planning Commission is studying "green infrastructure installations" such as rain gardens, street trees, bioretention or infiltration trenches, pervious pavement and other steps to help with the CSO discharges, the press release said.
"In addition, by reaching out to children we are aiming to get their parents interested and involved in the green infrastructure plan as well," Bartak said.
The plan is aimed not only at preventing Day Brook from entering the underground storm water-sewer system. The plan also seeks ways to stop storm water collected from streets from entering Day Brook's pipe where it is already underground, she said.
"The concept behind green infrastructure is to soak up rainwater in the ground close to where it lands instead of conveying it through expensive stormwater systems, as has been done traditionally," she said.
To help with that, planners have been studying the path of Day Brook as it flows through the city and examining where storm drains on streets or from rooftops connect to the same pipe in which Day Brook flows, she said. They are using blueprints and GIS, or a geographic information system on computer that captures, stores and displays data related to positions on the Earth's surface, according to nationalgeographic.org
Planners will prioritize sites for "green infrastructure" installations. That will be based on how much storm water is collected there, soil drainage, location in relation to utilities and public right-of-way and other access issues and comments from the community at workshops such as the one on Saturday, Bartak said.
The Pioneer Valley Planning Commission is a regional planning organization that began in 1962 and includes 43 cities and towns in Hampden and Hampshire counties.