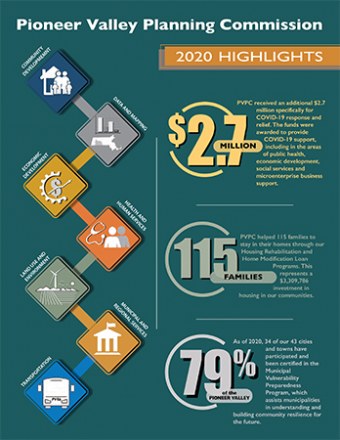 This year the Pioneer Valley Planning Commission (PVPC) went a different route in presenting to our member communities the major accomplishments that took place during this past year, 2020. We now call it the PVPC 2020 Highlights. With the difficulties individuals, families, businesses, and communities faced during this pandemic year, and still face, there were quite a few positives that took place. Click on the 2020 PVPC Highlight sheet below to get a quick glance at some of the those highlights. Click on the 2020 PVPC Highlights Story Map and get a more detailed summary of the 2020 highlights. Under a very difficult and trying 2020, we at the PVPC along with our member communities and their strong and resilient residents will continue to make the Pioneer Valley an enjoyable and comfortable place to live.
Click here to view/download 2020 PVPC Highlights sheet.
Click here to view 2020 PVPC Highlights Story Map.