Post-Hurricane Irma Deployment Q&A with Public Health Emergency Preparedness Planner Stephanie Bozigian-Merrick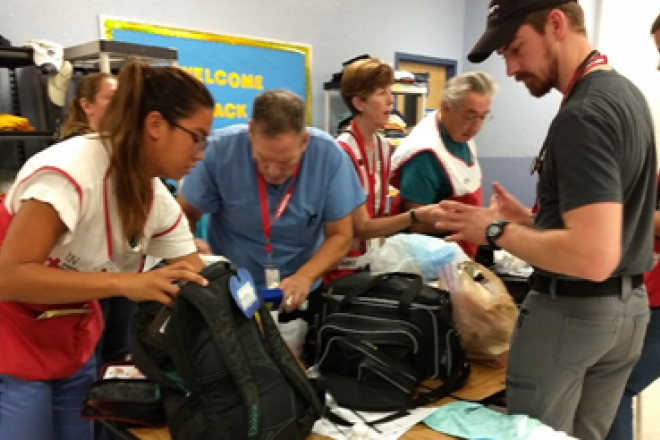 From September 9th through the 11th of 2017, Hurricane Irma battered much of Southern Florida with particular intensity in the Florida Keys where it made landfall on the 10th.
PVPC Public Health Emergency Preparedness Planner Stephanie Bozigian-Merrick, RN, BSN recently returned from a deployment to that region alongside Holyoke Public Health Nurse Deborah Schaier RN, BSN through the American Red Cross Disaster Health Services Division.
She has previously worked as an Infectious Disease Response Nurse at the Massachusetts Department of Public Health and has deployed to many disasters over the years - including Haiti after the 2010 earthquake and Joplin, Missouri after the 2011 tornado.
Her first disaster response experience came at a young age when she was traveling with family in Greece in the 1970's and saw firsthand how villagers in a small town outside of Athens worked together in the wake of an earthquake.
PVPC leadership and colleagues worked with her to ensure she could participate in this disaster response effort while keeping Hampden County's emergency preparedness work on track.
She shared her experience with Hurricane Irma and disaster response in general with PVPC Public Affairs Manager Pat Beaudry a week after returning.
Q: Walk me through the deployment experience. How did you get on the ground and what type of work were you doing?
We landed in Orlando where the American Red Cross had set up a staging location. Personnel were evaluated for fitness before being assigned to various parts of the state of Florida. Because of my previous experience with disaster relief I was assigned to the Keys - about an eight hour drive from Orlando.
There I was tasked with staff wellness nursing - caring for other responders' well-being. Newer responders in particular often don't want to quit after their 12-hour shift, recognizing there is still a great need for their assistance once their day has ended.
Based in a shelter set up in a high school in Marathon, it was my job to travel up and down the Keys checking in on responders to make sure they were taking care of themselves and not working themselves sick.
The unseasonable heat and humidity made working long days on the ground particularly challenging for responders during this deployment.
Q: What was it like on the ground?
Initially, there was no drinkable water or electricity. While the mangroves are able to survive the influx of saltwater brought on by this type of storm, most other types of vegetation were dead or dying as a result. That type of large scale rotting on top of spilt sewage and all types of other chemicals made for a very unpleasant odor common in post-hurricane scenarios.
There was a great deal of water and wind damage with about 25% of homes completely totaled and 65% significantly damaged in the region.
Q: What lessons did you bring back to the Pioneer Valley?
I was really interested to see how agencies who have not previously worked together collaborated under these conditions. Irma's large geographic area required many different agencies to be involved in response efforts.
While of course there were bumps along the way, the different agencies' ability to come together and figure out how to overcome them was really impressive to me while I was there.
Q: Are there any other thoughts you came back with as a result of your deployment to the Florida Keys?
While I was grateful to once again work with great responders from across the country - including California, Idaho, New Jersey and Maine, among others - it was clear that there are just not enough volunteers prepared to respond to any given disaster in any one region.
Flying in responders from all over the country is a good backup plan, but regions need to take more seriously their own area's ability to recruit and train volunteers who can initiate response efforts well before folks like myself can get in on the ground from out-of-state. This is one of the greatest challenges we struggle with as public health emergency preparedness planners here in Western MA – trying to help make sure there are enough trained volunteers to respond after a disaster.
That need is most acute in healthcare professions.
Whether a person wants to learn how to volunteer as a nurse or EMT, in a food clinic, or staffing a shelter in times of emergency, there are many great organizations like the American Red Cross, National Disaster Medical System, Doctors Without Borders, or the Western MA Medical Reserve Corps. to get involved in to ensure your region is prepared to respond when disaster strikes.
Continuing, Comprehensive, and Cooperative Planning Process
Average Annual Daily Traffic
American Association of State Highway and Transportation Officials
Advisory Council on Historic Preservation
Americans with Disabilities Act (1990)
Alternative Fuel Vehicles
American Heritage Rivers Initiative
American International College
Association of Metropolitan Planning Organizations
American Planning Association
Aquifer Protection District
American Recovery and Reinvestment Act (of 2009)
Automatic Traffic Recorder
Average Vehicle Ridership
Barnes Aquifer Protection Advisory Committee
Business Improvement District
Board of Appeals (or Adjustment)
Berkshire Regional Planning Commission
Bureau of Transportation Statistics
Clean Air Act Amendments of 1990
Commercial Area Revitalization District
Community Action Statement
Central Business District
Cooperating Colleges of Greater Springfield
Community Development Action Grant
Community Development Block Grant
Centers for Disease Control
Community Development Corporation
Community Development Fund
Community Development Plan
Community Economic Development Assistance Corporation
Community Economic Development Assistance Corporation
Comprehensive Economic Development Strategy
Community Enterprise Economic Development
Citizen Housing and Planning Association
Community Housing Development Organizations
Capital Improvement Inventory System
Capital Improvements Plan (or Program)
Congestion Mitigation and Air Quality Improvement Program
Congestion Management Process
Central Massachusetts Regional Planning Commission
Consolidated Metropolitan Statistical Area
Commonwealth Procurement Access and Solicitation System
Community Preservation Act
Citizen Planner Training Collaborative
Capitol Region Council of Governments
Community Service Block Grant
Department of Conservation and Recreation
Department of Environmental Protection
Division of Employment and Training
Department of Housing and Community Development
Direct Local Technical Assistance
Department of Energy Resources
Department of Transportation
Department of Public Works
Developments of Regional Impact
Production of affordable housing across a broad range of incomes 
Economic Assistance Coordinating Council
Economic Development Administration
Economic Development Council
Economic Development District
Economic Development Data and Information System
Economic Development and Industrial Corporation
Environmental Impact Report
Environmental Impact Statement
Environmental Notification Form
Economic Opportunity Area
Executive Office of Administration and Finance
Executive Office of Economic Affairs
Executive Office of Elder Affairs
Executive Office of Energy and Environmental Affairs
Executive Office of Labor and Workforce Development
Environmental Protection Agency
Environmental Site Assessment
Functional Classification (of roadways)
Federal Housing Administration
Federal Highway Administration - An agency of the United States Department of Transportation that provides financial and technical support to each state for constructing, improving, and preserving America's highway system.
Federal Highway Administration
Franklin Regional Council of Governments
Federal Transit Administration
Geographic Information System - A system for capturing, storing, analyzing and managing data and associated attributes which are spatially referenced to the earth.
Geographic Information System
Global Positioning System
Holyoke Community College
Housing Development Support Program
Home Modification for Individuals with Disabilities Loan
Historic Overlay District
Homeownership Opportunities Program
Housing Preservation Grant
U.S. Department of Housing and Urban Development
Intermodal Surface Transportation Efficiency Act of 1991
Intelligent Transportation Systems
Job Access and Reverse Commute
Jacob's Ladder Scenic Byway
Joint Transportation Committee
Limited English Proficiency
Low Income Home Energy Assistance Program
Low Income Housing Tax Credit
Local Option Transportation Tax
Local Pavement Management System
Local Technical Assistance
Massachusetts General Laws
Hazardous waste cleanup regulations
Uniform procurement law for local governments
Planning/comprehensive permits
Smart growth zoning and housing production
Smart growth school cost reimbursement
Moving Ahead for Progress in the 21st Century
Metropolitan Area Planning Council
Massachusetts Association of Regional Planning Agencies
Massachusetts Department of Transportation
Massachusetts Geographic Information System
Minority Business Enterprises
Massachusetts Development Finance Agency 
Massachusetts Environmental Policy Act
Massachusetts Geographic Information Council
Massachusetts Historical Commission 
Massachusetts Housing Partnership
Massachusetts Industrial Finance Agency
Municipal Incentive Grant
Massachusetts Municipal Association
Massachusetts Office of Business Development
Massachusetts Office on Disability
Memorandum of Understanding
Metropolitan Planning Organization
Metropolitan Planning Organization
Montachusett Regional Planning Commission
Metropolitan Statistical Area
Manual of Uniform Traffic Control Devices
Martha's Vineyard Commission
Merrimack Valley Planning Commission
Massachusetts Water Resources Authority
National Association of Regional Councils
New England Association of Regional Councils
National Historic Preservation Act of 1966 (as amended)
Neighborhood Housing Services program
National Highway Traffic Safety Administration
Northern Middlesex Council of Governments
Nantucket Planning and Economic Development Commission
National Pollutant Discharge Elimination System 
National Trust for Historic Preservation
National Transportation Safety Board
Old Colony Planning Council
Overall Condition Index (Pavement)
Open Space and Recreation Plan
Priority Development Fund
Purchase of Development Rights
Peak Hour Traffic (or Trips)
[Metropolitan] Planning Funds
Pavement Management System 
Primary Metropolitan Statistical Area
Pavement Management Users Group
Public Participation Process
Planned Unit Residential Development
Pioneer Valley Regional Brownfields Cleanup Revolving Loan Fund
Pioneer Valley Transit Authority
Quaboag Valley Community Development Corp.
Rental Development Action Loan
Regional Employment Board
Regional Education and Business Alliance
Regional Economic Models, Inc.
Request for Qualifications
Regional Greenhouse Gas Initiative
Regional Pavement Management System
Regional Transit Authority
Regional Technology Corporation
Regional Transportation Plan
Safe, Accountable, Flexible, Efficient Transportation Equity Act: A Legacy for Users
Small Business Administration
Supplier Diversity Office 
State Implementation Plan (for air quality)
Sustainable Knowledge Corridor
Statewide Planning and Research Funds
Southeastern Regional Planning and Economic Development District
Springfield Technical Community College
Statewide Transportation Improvement Program
Surface Transportation Program
Targeted Brownfields Assessment
Transportation and Community System Preservation [Pilot Program]
Transportation Demand Management
Transfer of Development Rights
Transportation Equity Act for the 21st Century
Transportation Improvement Program
Traditional Neighborhood District
Transit Oriented Design (or Development)
Transportation Research Board
Transportation Systems Management
University of Massachusetts
University of Massachusetts Donahue Institute
Unified Planning Work Program
Urban Revitalization Development Grant
U.S. Department of Agriculture
U.S. Department of the Interior
U.S. Fish and Wildlife Service
Underground Storage Tanks
Volatile Organic Compound
Ware Adult Learning Center
Weatherization Assistance Program
Women-owned Business Enterprises
Western New England University
Water Quality Management Plan
Westfield River Watershed Association
Westfield River Wild & Scenic Advisory Committee
Water Supply Protection [District]
Westfield State University
Zoning Board of Adjustment (or Appeals)