Hazard Mitigation Plan Status in the Pioneer Valley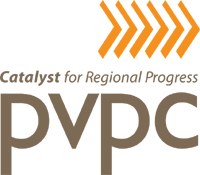 Over the last 10 years, the Pioneer Valley Planning Commission has helped 41 communities in the Pioneer Valley develop hazard mitigation plans, making them eligible for grant opportunities from the Federal Emergency Management Agency (FEMA) and the Massachusetts Emergency Management Agency (MEMA).
Through the hazard mitigation planning process, communities assess their vulnerability to natural hazards, such as flooding, snowstorms, hurricanes, tropical storms, and tornadoes. They also prioritize a set of mitigation strategies that will help eliminate the long-term risk to human life and property from these hazards. Common mitigation strategies that are eligible for grant funding from FEMA and MEMA include localized flood reduction projects, structural retrofitting of existing buildings, culvert improvements, installation of emergency backup generators, and infrastructure retrofits.
PVPC provides guidance in all aspects of the development of hazard mitigation plans, including identification and mapping of natural hazards, collaboration with municipal officials to prioritize mitigation strategies, and public outreach.
PVPC has recently completed plan updates and/or the development of new plans for Agawam, Easthampton, Granville, Hampden, Longmeadow, Montgomery, Northampton, Southwick, Tolland, Wales, Ware, and Wilbraham. PVPC is actively working with Amherst, Belchertown, Blandford, Chester, Chesterfield, Chicopee, Cummington, East Longmeadow, Goshen, Granby, Hadley, Hatfield, Holland, Holyoke, Huntington, Ludlow, Monson, Palmer, South Hadley, Southampton, Westfield, Westhampton, and Williamsburg on their plans.
Hazard mitigation plans must be updated every five years. As a result, hazard mitigation planning work is continually underway in PVPC's 43 member municipalities. Area businesses, residents, and surrounding communities are encouraged to participate in the local community planning process.
For more information, please contact PVPC's Catherine Ratté at cratte@pvpc.org or (413) 781-6045.