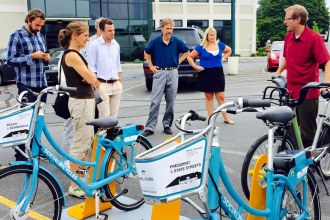 Get involved with ValleyBike Share by simply helping us advocate and spreading the word!  By joining our mailing list and by engaging in our social media platforms, you will be updated with the latest and will have access to important updates that will require your attention.
Join Our Mailing List
Information and updates are constantly being shared with the public to keep people updated on ValleyBike Share progress. More than just updates on progress, there are also news and events that come up and we want to make sure you are informed! Join our mailing list to get these updates by emailing us valleybikeshare@gmail.com!
Engage in Social Media!
Visit our ValleyBike Share Facebook page and 'Like' us! Also, be sure to share the page with your network along with any cool contents posted in its newsfeed to help spread the word on ValleyBike Share. Visit: https://www.facebook.com/valleybikeshare/
ValleyBike Share Twitter page coming soon.
Associated Communities:
Amherst
Holyoke
Northampton
South Hadley
Springfield