Daily Hampshire Gazette Editorial: Bold step for region to restore Union Station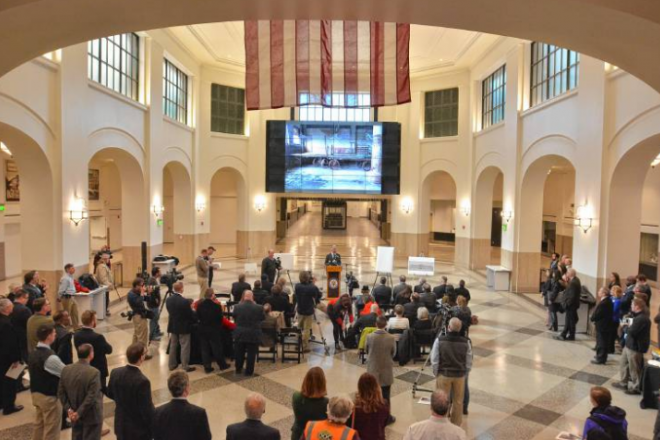 By Daily Hampshire Gazette Editorial Board
Springfield has built it. Now will they come? The newly restored Union Station, set to open in June as a hub for train and bus service — with commercial offices and retail outlets — is a stunning mix of old and new, as historic touches blend with state-of-the-art slickness.
The $95 million project, 40 years in the making, is the dream of U.S. Rep. Richard E. Neal, who began his political career in 1977 by announcing his candidacy for Springfield City Council on the steps of the then-shuttered station, vowing to bring it back.
The hope is that the station not only will serve as a conduit and catalyst for a revitalized mass transit service, but will help rejuvenate the beleaguered city, which is also anticipating a boost from the MGM casino under construction downtown.
The station, which was built in 1926, was once the center of a bustling railway network with 130 trains a day crossing north, south, east and west. Neal, Mayor Domenic Sarno, Springfield Development Officer Kevin Kennedy and others are banking on the comeback of rail service as a go-to mode of transportation to fulfill the promise of their gleaming station.
Already Amtrak has made moves to improve rail travel along the north-south corridor. The Vermonter, which runs one north-south route daily in each direction from St. Albans to New York City to Washington, D.C., discontinued its dogleg route through Amherst three years ago and has restored stops in Holyoke, Northampton and Greenfield to improve service.* Plans are in the works to extend it north to Montreal.
The Connecticut Department of Transportation plans to increase its passenger service in 2018, with as many as 12 trains to Springfield each day, and is upgrading the rails connecting New Haven to Springfield.
Planners are also talking about a future "inland" route connecting Boston to New Haven through Springfield.
***
In a statement this month, Timothy Brennan, executive director of the Pioneer Valley Planning Commission in Springfield, put it this way:
"In Latin, the word 'redux' typically means 'brought back' or 'bringing back' which is what Union Station's remarkable transformation is all about despite the numerous obstacles and setbacks that each had to be addressed and overcome. Nevertheless, Union Station's wholesale transformation is fully here and it's one which we can count on to help move us and to connect us to an ever more promising and prosperous future."
The possibility is exciting for Springfield and the entire region. It's a big, bold step we hope succeeds.