CT by the Numbers: Knowledge Corridor to Gain Boost as More Frequent Rail Runs Through It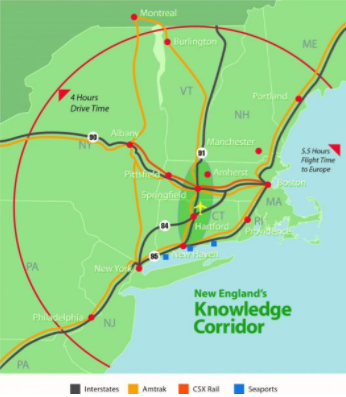 For years, the tag line has been "innovation runs through it."  In the coming year, there will also be more frequent rail service running through it, and that may make all the difference in the world.
When proponents of economic development in what's known as "New England's Knowledge Corridor" get together for a conference this fall, it will be with the backdrop of the three anchor cities that span two states – New Haven, Hartford, and Springfield – being more connected than ever, with the start of the new regular rail service between the cities just months away.
The half-day conference, "Leveraging the Knowledge Corridor's Transportation Assets and Investments to Drive Economic Progress," will be held at Union Station in Springfield on October 18. It will serve as the coalition's 2017 "State of the Region" conference.
The keynote speaker will be Robert Puentes, President/CEO of the Eno Center for Tranasportation.  Panelists will include five members of Congress from the region:  Richard Neal and James McGovern from Massachusetts and John Larson, Rosa DeLauro, and Elizabeth Esty from Connecticut.
Plans also include talks by Connecticut Commissioner of Transportation James Redeker and his counterpart in the Bay State, Stephanie Pollack, Secretary/CEO of the Massachusetts Department of Transportation.  Officials also anticipate releasing the results of the 2017 New England Knowledge Corridor Business Survey.
"In the Knowledge Corridor, we're convinced that the transportation assets we have; new ones that will be coming online in the  next year or two, plus; those we are planning to see realized over a longer range time line constitute the bedrock of a competitive 21st century economy that enables ready and affordable access to skilled workers, attractive markets and motivated consumers on a global scale," Tim Brennan, Chairman of New England Knowledge Corridor Partnership and Executive Director of the Pioneer Valley Planning Commission, told CT by the Numbers.
On Monday, Governor Dannel P. Malloy announced that a joint venture of TransitAmerica Services and Alternate Concepts has been selected as the service provider that will operate and manage service on the Hartford Line – which is expected to launch in May 2018.