BusinessWest: That's What The PVPC's Tim Brennan Has Done For The Past 47 Years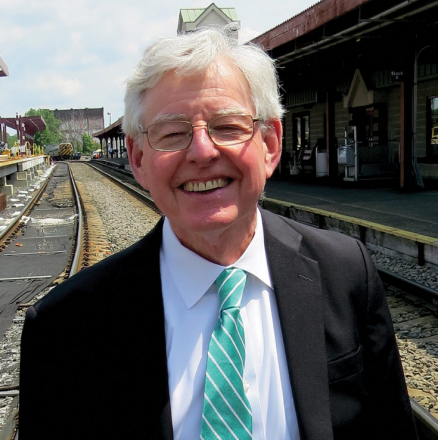 By George O'Brien 
Tim Brennan's almost-half-century-long career with the Pioneer Valley Planning Commission will draw to a close later this summer. As he pivots into retirement, Brennan talked with BusinessWest about the many ways the landscape has changed over the past four and half decades, and especially the emergence of a more regional focus in the Valley.
Tim Brennan says that planners — good ones, anyway — live in what he calls "two time zones."
"One is the present, and the other is typically 20 years out," he told BusinessWest. "You're dealing with the here and now, but you're also trying to anticipate a problem that might hurt us and ward it off, or an opportunity that we should grab and not squander — and all that makes for an interesting career."
Brennan has been living in these two time zones for nearly 50 years now, the past 47 of them with what is now known as the Pioneer Valley Planning Commission (PVPC), and the past 40 as executive director of that agency, which has a mission effectively summed up in its name.
Over those years, Brennan and the PVPC, always working collaboratively with municipalities, state leaders, and other business and economic-development-related agencies, has succeeded in changing the local landscape in all kinds of ways — from cleanup of the Connecticut River to creation of the Western Mass. Economic Development Council; from the building of bike trails across the region to the re-establishment of north-south rail service to a number of Western Mass. communities.
It was primarily a desire to continue working on the front lines to expand that north-south rail service, among other pressing projects, that has kept Brennan in this job into his 70s (he's now 71), although he is coming to the end of the line, as they say in the rail industry, when it comes to this phase of his life.
Indeed, Brennan will be officially retiring toward the end of August, handing over the reins of the PVPC to a successor to be chosen in a matter of days.
So, for this issue, we conducted what amounts to an exit interview with Brennan, whose work has been spotlighted in this magazine on countless occasions, perhaps most notably when BusinessWest bestowed its coveted Difference Makers award upon him in 2011.
Looking back on his career, Brennan said there have been a number of success stories, none of which were scripted quickly or easily. In fact, he said, over the course of his nearly 50-year career, patience and tenacity have been his (and his agency's) best virtues — out of necessity.
"One of the hardest lessons I learned, and I learned it early on, is that oftentimes, you can make the best of plans, but that doesn't guarantee they'll get implemented," he noted. "You've got to stay with it because the planner is frequently not the implementer; you have to keep trying if it's a good idea."
As an example of this phenomenon, he cited the PVPC's long and hard work to create bike trails.
"Back in the '70s, a concept that came up was the Five College Bikeway; it got a lot of attention and a lot of buzz," he explained. "But after the buzz wore off, everyone abandoned it. I thought, 'this has merit; we ought not let it drop.' It took us 20 years, but I was up cutting the ribbon for the Norwottuck Trail.
"My mantra here is, 'we plan, we do, and we measure what we do,'" he went on. "And with the doing, you always have to have partners, whether it's communities at town meeting, a City Council, the state Legislature, MassDOT — whoever the implementers are, we have to tag-team to get our plans to fruition."
As he winds down his career in planning, Brennan noted that, in many ways, things have come full circle — for both himself and this region.
Elaborating, he said one of the first projects he embraced was cleaning up the Connecticut River, a discussion he introduced by citing that often-quoted line from the early '70s (he believes it's from the New York Times) about the river being the "best-landscaped sewer in the country."
"It's not a sewer anymore," said Brennan. "We now have class-B water above the Holyoke Dam; we've been working at it for more than 30 years, and we've cut the pollution levels by more than 50%. We still have a long way to go, but it's not a landscaped sewer anymore, and above the Holyoke Dam, it's a real treasure.
As prepares to step away from the PVPC and shift his focus to travel, working for his daughter's flower-growing business, traveling, and perhaps sailing (more on all that later), Brennan said the environment is once again perhaps the top focus of the agency's energy.
That's made clear by the title on the program for the organization's annual meeting on June 13 in Northampton — "Combating Climate Change" — and the accompanying artwork, a thermometer positioned over a globe taking on a decidedly reddish hue.
Regionally, Brennan and the PVPC have helped changed the climate in this region in a figurative sense. For this issue, we take a look back and, in the spirit of working in two time zones, ahead.