Beverly Scott to Speak on Transportation Equity in Springfield May 12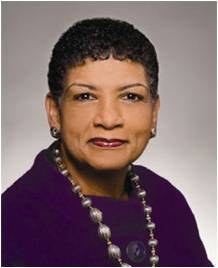 National transportation leader Beverly Scott, Ph.D. will visit Springfield to help launch a local effort to achieve greater equity in federal transportation policy.
Dr. Scott will speak on Tuesday, May 12 at 5:00 p.m. at the UMass Center at Springfield, 1500 Main Street in Tower Square.
In 2012, President Barack Obama named Dr. Scott a "Transportation Innovator of Change" for her record of leadership and service in public transportation.
Dr. Scott has long advocated for better access to jobs, health care, education, and other opportunities, especially for people who depend on public transportation. From 2012 to 2015, she was the General Manager of the Massachusetts Bay Transit Authority (MBTA), leading it through the snowiest winter in recorded history.
From 2007 to 2011, she was the Chief Executive Officer of Atlanta's Metropolitan Atlanta Rapid Transit Authority (MARTA) system, where she notably focused public attention on transportation funding by painting a large red "X" on buses that would be eliminated by proposed budget cuts.
Dr. Scott's visit will lead off a local effort to better incorporate principles of transportation equity into the work of LiveWell Springfield, a coalition of community-based organizations that promote public health and related activities citywide. The project includes three workshops in June designed to engage, educate, and empower emerging leaders within communities of color in Springfield.
Dr. Scott's appearance is sponsored by the Pioneer Valley Planning Commission, which was one of six organizations nationwide to receive funds to help recruit and engage emerging local leaders as part of a program by the Leadership Conference Education Fund and PolicyLink, a national research and action organization working to improve social and economic equity.